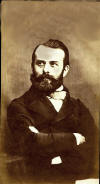 Carl Haag, 1855
Image courtesy of Catherine Allison
Carl Haag (b. Erlangen, 20 April 1820; d. Oberwesel, 24 Jan 1915). German painter, active in Britain. After studying in Nuremberg, he painted miniature portraits in Munich and Brussels. In 1847 he went to London to study English techniques of watercolour painting and evolved a method that he claimed achieved the 'brilliancy of oil painting, combined with the tender-sweetness of water-colours' (Millar, p. 144). From
1850 he exhibited at the Society of Painters in Water-Colours and was elected a full member in 1853. That year he was commissioned by Queen Victoria and Prince Albert to paint two large and elaborate watercolours commemorating deerstalking expeditions at Balmoral in Scotland (British Royal Col.); he returned to Balmoral in 1863 and 1864. He made many visits to Balmoral, recording the life of the royal couple and their children in numerous stunning watercolours. These are works of terrific quality and part of the Royal Collection.
In 1858 Haag made his first visit to Egypt, where he joined forces with the English painter, Frederick Goodall. Both artists were captivated by the beauty of the landscape, and the exotic quality of Arab life.
| | | | |
| --- | --- | --- | --- |
| The Coffee Bearer | | Portrait of Carl Haag | Caricature of Carl Haag |
| 1895 letter written to Edward A. Goodall | 1884 Letter | 1884 Letter | |
| | | | |
| --- | --- | --- | --- |
| | The Prayer | Shipwreck in the Desert | |