Ernest Gambart 1814 -1902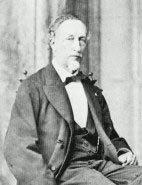 British publisher and dealer, (b Courtrai, 12 Oct 1814; d Nice, 12 April 1902). He began his career in his father's printing, binding and bookselling business, with a reading-room, at Courtrai, Belgium. From c.1833 he was established in Paris, with his own print and paper-making business. In April 1840 Gambart arrived in England, representing Goupil's print publishing business. By Autumn 1842 he had formed a partnership known as Gambart & Junin, which specialized in the import of prints from the Continent. After a brief period at 12 Denmark Street, London, the expanding business was set up at 25 Berners Street, in March 1844, as publishers, importers and exporters of prints. It was from this address that Gambart launched his career as one of the leading print publishers of the mid-Victorian period, with engravings after all the most celebrated British and continental artists of the time, including Edwin Landseer, John Everett Millais, Rosa Bonheur, Lawrence Alma-Tadema and William Holman Hunt. Probably his most famous publication (1858) was the engraving by William Henry Simmons of Hunt's The Light of the World.
On 8 July 1846 Gambart became a British subject. Within three years he gave his first exhibition (of bronze sculptures of animals by Pierre-Jules Mène); other exhibitions followed, after a while on an annual basis, first at 120–21 Pall Mall, which became known as the French Gallery, and from 1868 at 1A King Street, St James's. At these galleries exhibitions of works by British artists alternated with those of works by their leading contemporaries in France and the Netherlands. These commercial exhibitions formed the model for most subsequent ventures of a similar kind at other dealers' establishments. Friendship with leading artists, with the new middle-class patrons (Joseph Gillott being the most celebrated) and with critics, notably Ruskin and F. G. Stephens, helped to establish in Britain the system of dealers, critics and patrons on which the modern art trade is based.
Gambart's business dealings with living artists were considered to be scrupulously fair, although artists under contract often complained of his stringent observation of the terms of agreements.
Artists with whom Gambart made business arrangements include John Linnell (ii), Turner, David Roberts, Landseer, Frederick Goodall, Millais, Dante Gabriel Rossetti, Holman Hunt, Ford Madox Brown and William Powell Frith (the engraving of whose Derby Day he published).
His long friendships with Bonheur (whom he brought to England in 1855) and Alma-Tadema, whom he introduced to England, did much to advance their reputations. Gambart was a popular and influential figure with the artistic establishment: his only true rivals were, at first, Louis Victor Flatow and, later, William Agnew. His affairs were conducted with integrity and flair.
Gambart was married three times but had no children. On his retirement in 1870, the business passed to his nephew Léon Lefèvre and became known as Pilgeram & Lefèvre; it survives as the Lefevre Gallery, 30 Bruton Street. Gambart's remaining years were spent as Spanish Consul-General in Nice, at Les Palmiers, a sumptuous marble palace built to his specifications. His London home "Rosenstead"was eventually sold to his long time friend and artist Frederick Goodall. He also had a summer château at Spa, Belgium. He was made a Member of the Royal Victorian Order in 1898 and received many other honours.
The following notes are from Gambart, Prince of the Victorian Art World' (London 1975) by Jeremy Maas
Annie Gambart (1835-1870) née Baines, was the third wife of Ernest Gambart (1814-1902), the greatest of all Victorian art dealers and publishers. Belgian-born, Gambart lived in France where he established his own print and papermaking business in the 1830s, before settling in England in the 1840s.
By 1844 Gambart was one of the leading print publishers of the period, with engravings after all the most celebrated British and Continental artists of the day – Alma-Tadema, W. P. Frith, Holman Hunt, Landseer, Millais etc. Queen Victoria was a friend and patron. He established the French Gallery in St. James's in the late 1860s and held regular exhibitions of works by leading contemporary British and European artists. The French animal painter and sculptor Rosa Bonheur (1822-1899) was a great friend and he brought her to England in 1855. Indeed, one of his greatest achievements was the purchase and exhibiting of Bonheur's 'The Horse Fair' (1853).
Annie and Ernest were married in 1851, the year of the Great Exhibition in London. In his book, Gambart, Prince of the Victorian Art World, Jeremy Maas writes that Annie Baines was 'the girl of his choice, … a pretty brown-haired child with blue eyes'. She was only sixteen, less than half of Gambart's age. He continues:
'Annie and her husband were to be happy for many years together. … Annie was very dear to her husband, and he decked her out in the prettiest clothes and lavished on her presents of fashionable jewellery as the years passed by, regardless of their expense.' (p. 54)
Ernest Gambart was highly influential in the art world and he conducted business with style. He and Annie were part of the Victorian social scene and famous for their lavish parties. Maas writes: 'Annie, always expensively dressed, behaved with the irrepressible waywardness of a spoilt child, and her gay ringing laughter was like the sparkle of champagne. At their parties all the best-known artists of the day were to be seen – the Friths, the Wards, the Goodalls, George du Maurier, Millais, Rossetti, Hunt …', together with personalities from the world of literature, music and theatre. (p. 72).
The Gambarts lived at 'Rosenstead', 62 Avenue Road, near Regent's Park, a large London villa, magnificently decorated and furnished. Here they entertained their guests with grand parties and balls. However, a devastating gas explosion occurred after a fancy-dress ball on the evening of Derby Day in May 1866, after which 'nothing was ever quite the same again' (Maas, p. 189). The Alma-Tademas, who were staying, awoke to the smell of gas and sensibly opened their window; while others hid under the bedclothes; but the resulting explosion left almost the entire back of the house in ruins. Annie was in such a state of anxiety that Ernest despatched her to friends nearby. Indeed such was the devastation that '… a six-foot [picture by] David Roberts was projected over several gardens; and lodged in an apple tree, its branches stuck through the canvas; and two paintings by Creswick were found impaled on a neighbour's iron railings.' (p. 195).
It was in the following year, 1867, that Annie and Ernest Gambart separated. He allegedly had '… various little girls in different lodgings about' (p. 206). Although they never legally divorced, Annie moved to Bayswater, where she remained until her untimely death just three years later in 1870, at the age of thirty-five. Cause of death was diagnosed as disease of the liver, the same as Gambart's second wife, Mary Matilda ((c.1821-1848). This portrait of Annie is known to have hung at Gambart's home 'Les Palmiers' in Nice. This may account for the French name plaque. It is included in the inventory made after his death in 1902. Annie was also painted by the French portrait painter Édouard Dubufe (1820-1883).