Portrait of his aunt Frances Goodall (Wife of Edward A.)
Done when Trev was 18 yrs of age.

The return of Ulysses, 1869, oil on canvas, 104.8 x 130.2cm. Gift of Colonel A. Hanbury-Sparrow 1970. Collection: Art Gallery of New South Wales
Portrait dated 1871 from a private collection in the U.K.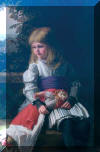 We are not certain that this was painted by Trev or his father. At a recent sale, it was advertised as having been painted by Trev but signed with a monogram.