The Goodall Family Of Artists
Home
Stewart S. Goodall

1919-1968
Stewart posing in his studio.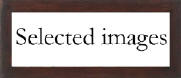 Stewart was brother to Edward Goodall (1909-1982) and was one of London's leading restorers of art. He spent the last war in North Africa and was the youngest Lieut. Col. in the British Army at the time. After the war and early peace years, he returned to London and studied the art of restoration. The images included are circa 1950-1960 . Stewart had a large four story home at Montague Square where he had his studio and lab. Here he restored works of the old masters including those personally belonging to the Queen and from many galleries including the Tate.
Mr. Lars Rasmussen of Nyborg Denmark has very kindly contributed some interesting anecdotes about Stewart Goodall. Lars was looking for student employment in London in the late 1950s, and was introduced to Stewart during his search. Lars enjoyed many enjoyable visits to Stewart Goodall's residence at 19 Montague Square over the next few years and I am pleased to add some excerpts from his correspondence.
Richard Goodall
"I saw Stewart for the first time in July l958. A friend of mine had introduced me. I wanted a job very badly before going to Cambridge to study in September, and Stewart very kindly introduced me to a friend of his who had five hotels in London. Until a job came up Stewart offered me to work with him in his house - painting doors etc.
I went to Stewart´s 3 or 4-storied house and helped him paint and do minor repair work. I lived at a hostel elsewhere but came around in the mornings. Stewart taught me the technique of painting paneled doors. At the time I didn´t know how useful that would be, but I have lived in an old farm house for many years now and all doors here are paneled. I think of Stewart every time I paint a door. Well, we even made our own putty and we had many a good talk while kneading the ingredients. One day I said to Stewart "I would so much like to have a record with Albert Schweitzer playing Bach on the organ". Stewart could easily arrange that, for he knew a good shop and he suggested we go there in the afternoon. We found Bach´s Toccata and Fugue in D minor + other pieces and had it played for us. There were two enormous loudspeakers in the shop and it felt like being in a great cathedral. When it finished it was very still and I saw Stewart with big tears in his eyes. "God bless you Lars", he said. It was all very moving.
Stewart also mentioned his time in the war. I think he said he was decorated twice. I think he helped save a tank unit in Africa and he stopped a ship with a dangerous cargo.
Stewart had a cabinet with rare old China, and his fine silver cutlery was in daily use - somewhat carelessly lying about. I was very young and unfamiliar with fine art and silver, so one morning in the basement kitchen we were preparing for more door painting. I took up a paint pot, and having no appropriate tool at hand I picked up a spoon lying in a corner to open it with. Stewart´s furious outburst hit me like a hammer, and it took a while before I understood just how stupid I had been. But we were soon good friends again.
I remember Stewart answering the phone "Wellbeck 2ooo", he said, and a good number it was too.
A couple of times he took me along to his favourite pub - a very old place run by a big fat landlady called Dorothy. "Coming along to Dorothy´s", he would say.
Stewart's studio was an awesome place. Famous paintings on a divan or leaning against the walls - probably worth millions. A big desk with an infrared lamp which revealed the most surprising things on the paintings. Stewart once threw a party for a young Irish fellow (my first friend in London). When the party stopped around 3 a.m. there was no public transport for another couple of hours, so people settled in sofas, chairs or on the floor. But I sneaked downstairs, removed a couple of the Queen´s paintings and slept on the divan.
When I got a job (illegal) at a hotel - breakfast team - I often went to Stewart´s house and gave a hand in the afternoons. Later in Cambridge, Montague Square was my base whenever I spent a week-end in London.
That was a very happy time in my life. Stewart was an extraordinary man and we talked so well together. I had tea quite often with his old mother in her rooms upstairs, a dear old lady whom Stewart liked to make fun with. I visited Stewart off and on in the following years when I happened to be in London.
In l964 I was in London again and asked Stewart if I could invite him out some place in return for his kindness to me. Stewart appeared glad for the invitation and we went to a theatre and saw a musical. I am very happy I got the opportunity since this was the last time I saw Stewart."
Lars Rasmussen