Home
William Goodall 1757-1844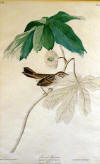 Although William Goodall is not one of the Goodall family of artists, he is being included because his paintings of animals and plants are often and incorrectly attributed to Walter Goodall. Both William and Walter signed their work "W. Goodall"
To visit Walter Goodall's page, please click on the "Home" button above.
Who was William Goodall?
This question is answered in a research paper authored by Michael Locke and his wife Janet V. Collins.
William Goodall was educated at Eton and became an ordained priest of the Church Of England. He served as absentee rector at All Saints Church, Marsham, near Aylsham in Norfolk from 1787-1844. In 1788 he married the sole heiress of Dinton Hall, Buckinghamshire, making him lord of the manor and a Justice of the Peace for Bucks. His painting became a life long hobby which is covered in detail below. The documents are from the Linnean 2001, volume 17, authored by Michael Locke, MA, PhD, ScD, FRSC., Dept. of Zoology, University of Western Ontario, Canada, and his wife Janet V. Collins, BSc, LLB, PhD,